New Range Of Video Microphones
AZDEN PRO-XR 2.4 GHz Wireless Microphone System £294 inc vat
The PRO-XR is a new kind of 2.4 GHz digital wireless microphone. Using several new technologies, it avoids the line-of-sight dependency and congestion problems that plague traditional 2.4 GHz wireless, resulting in an extremely reliable wireless microphone.
Easy-to-use, compact and lightweight, the PRO-XR is perfectly suited for video creators of all types. Whether you shoot with a DSLR camera, mirrorless camera, cinema camera or mobile device, the PRO-XR can deliver high-quality and dependable wireless audio for your videos.
FREQUENCY SPECTRUM AUTO-SCAN
Once powered on, the PRO-XR automatically scans the 2.4 GHz frequency spectrum and selects the best available frequencies to use for its connection, thereby avoiding interference-prone frequency bands.
AUTOMATIC INTERFERENCE AVOIDANCE
The activity of 2.4 GHz devices in a given area can change frequently and rapidly. That is why the PRO-XR constantly monitors this range and automatically and seamlessly changes its transmission to use different frequencies when it detects the possibility of interference.
SIGNAL REDUNDANCY TECHNOLOGY
Further fortifying the system's resistance to interference, PRO-XR employs Azden's proprietary Signal Redundancy Technology, in which the transmitter sends two copies of its signal to the receiver at all times, each on a different frequency. If the system predicts interference of the primary signal, it will instantly switch to using the secondary signal without any interruptions.
EXTERNAL ANTENNA DESIGN
While many other digital wireless systems are moving to under-performing internal antennas, the PRO-XR system employs a more reliable external antenna design and comes with two interchangeable antenna options for the transmitter: a flexible antenna for comfortable and inconspicuous wearing of the transmitter, and a high-gain antenna for increased performance especially at long distances and with line-of-sight obstruction.
ADJUSTABLE TRANSMISSION POWER
Change the transmission output power of the transmitter to adapt to challenging environments. Use the default 20 mW setting for optimal battery life and excellent performance in most situations. Optionally increase the output power to 50 mW or 100 mW for better performance at extreme distances, or to overcome line-of-sight obstructions and over-crowded Wi-Fi environments. Combining the 100 mW output with the use of the included high-gain transmitter antenna can extend the range of the system up to an incredible 300 feet!
RECHARGEABLE BATTERIES
The built-in, rechargeable lithium-ion batteries provide up to 20 hours of run time on the receiver and 14 hours on the transmitter; plenty of power for a long day of shooting. Eliminates the hassles of single-use batteries and reduces e-waste. The system comes with a dual-USB charging cable and AC adapter.
VOLUME CONTROL AND MONITORING
The receiver includes a 3.5 mm headphone jack for monitoring, and a 6-step adjustable output gain control for optimizing audio levels with your camera.
INCLUDED LAVALIER MICROPHONE
The professional-grade, omni-directional lavalier microphone captures the full frequency range of 20 Hz to 20 kHz, ensuring crisp and clear recording of your subject's voice. The angled 3.5 mm TRS plug allows compatibility with many other wireless systems and recorders.
LINE-IN AUXILIARY INPUT
For extra flexibility, the transmitter allows for the connection of line-level audio devices via the 3.5 mm auxiliary input. This input can be connected to the output of an audio mixer, digital recorder or any other line-level source.
MOBILE VIDEO COMPATIBLE
The PRO-XR is also compatible with smartphones and tablets out of the box. Easily mount the PRO-XR receiver to your smartphone with the included Smartphone Mount. A Lightning-to-headphone adapter cable is included for connection to iOS devices. A TRRS output cable is included for other devices with headphone jacks. No special apps are required to use the PRO-XR's audio when shooting video on your mobile device.
SMARTPHONE MOUNT
The included mount uses a spring-loaded clamp to tightly grip down onto almost any smartphone. It can accommodate phone widths from 2.4 in. – 3.3 in., making it compatible with even the largest smartphones (phablets) on the market today. Unlike many other phone mounts, ours is equipped with a cold-shoe slot, allowing you to mount a microphone, wireless receiver, or other accessories. The mount itself is mountable to any tripod or pole via a ¼"-20 threaded hole. Built to last, the mount is all-metal construction and quality tested to withstand over 6,000 pulls.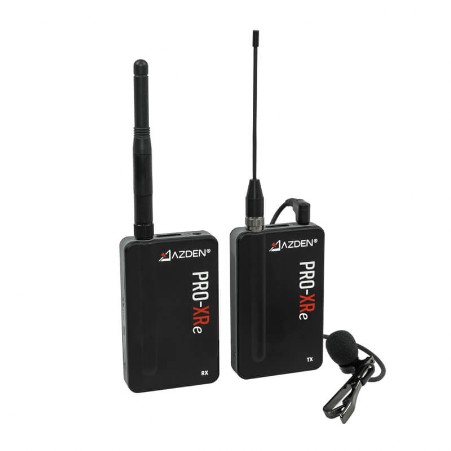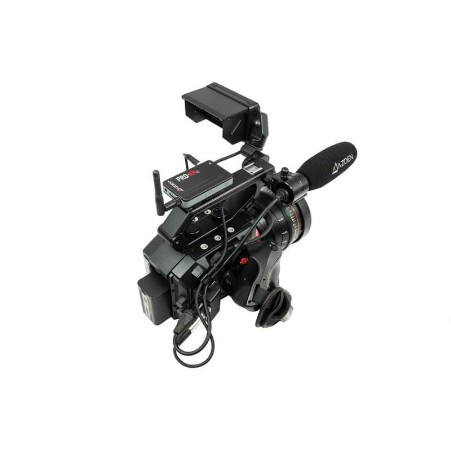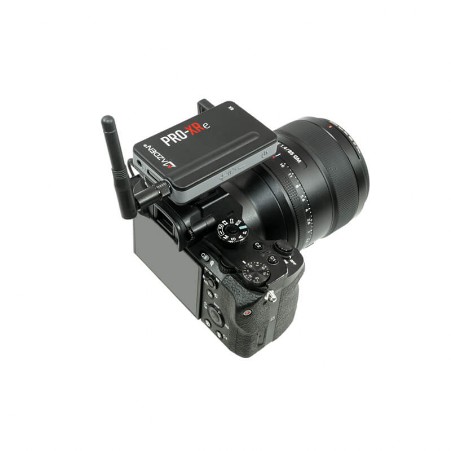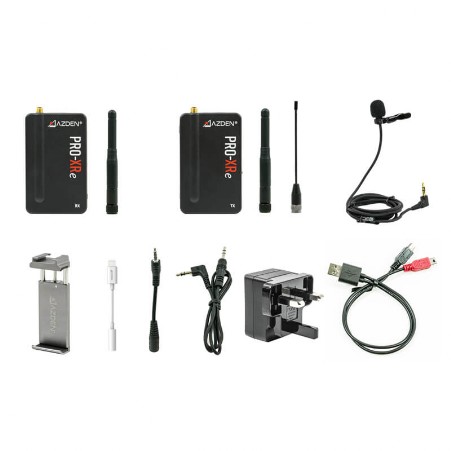 AZDEN SGM-250CX

Professional Compact Cine Mic £246 inc vat
The SGM-250CX is a short length, condenser shotgun microphone that is ideal for mounting on compact digital cinema cameras, as well as DSLR and mirrorless cameras equipped with XLR adapters. Measuring at a mere 6 inches in length, the SGM-250CX can easily stay out of the way. Integrated in the microphone's design is a hardwired, 13-inch XLR cable for convenient connection to camera microphone inputs. The microphone's highly sensitive, condenser element is powered by standard 48 V phantom power, which most XLR microphone inputs can provide.
The SGM-250CX includes Azden's SMH-X shock mount which mounts to standard size camera shoe slots, as well as ¼"- 20 threaded mounts and tripods. Also included are diameter expander sheets for universal compatibility with ring-clamp style microphone mounts.
LEGENDARY NATURAL SOUND
The SGM-250 microphone series has become notable in the industry for its natural, professional sound. Specifically tuned to preserve the natural qualities of a speaking subject. While other manufactures hype-up the bass response on their microphones, making the audio sound muddy, or over-accentuate high mids, making dialogue tracks sound harsh, you can expect the SGM-250CX to accurately record the sound of your scene.
NOT JUST A REFERENCE MICROPHONE
You can rely on the SGM-250CX for great reference audio, but it's capable of more than that. Its low noise, and wide frequency response performance means it can capture audio good enough for the final cut. Whether you run and gun, mount to a pistol grip or a boom pole, the SGM-250CX can be your go-to mic for great dialogue capture.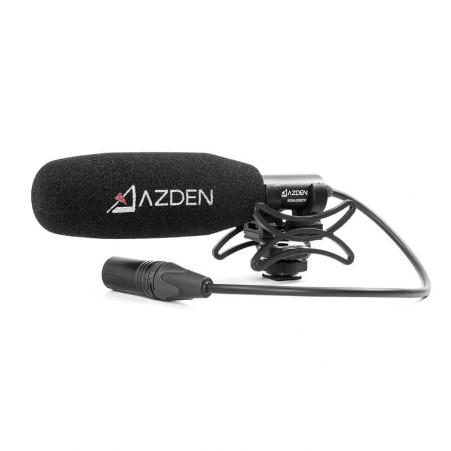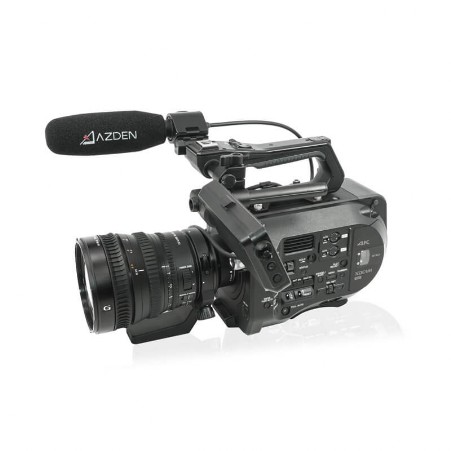 AZDEN SGM-250P Professional Shotgun Microphone £294 inc vat
The SGM-250P Professional Shotgun Microphone was designed for video and filmmaking professionals to deliver broadcast quality sound at a low budget price. Boasting the same level of high quality construction and sound performance as the SGM-250 model, the SMG-250P is a phantom powered only model, offering an even more affordable solution for those who do not require a battery power option in their microphone.
Azden has set a new level in quality and performance with the SGM-250 and SGM-250P: A completely redesigned microphone element drastically improves sensitivity, frequency response and signal to noise ratio. The all metal-alloy case provides rugged durability and strong resistance to RF. The microphone's custom designed, slotted, acoustic barrel exhibits excellent super-cardioid directionality and side noise rejection.
The SGM-250P also comes equipped with an easily accessible low-cut filter switch on the body of the microphone. Set at 160Hz with a 3dB/octave roll off, the low-cut filter is designed to provide a smoother and more pronounced reduction in low frequencies, handy for combating noisy environments and proximity effect.
Measuring 200mm in length (about 8 inches) the SGM-250P is easily kept out of frame in boom pole applications and is suitable for almost any filming situation.
The SGM-250P comes with a leatherette, zipper carry pouch and a shock-absorbing mic clip with shoe mount.