Standard Worship Video
Installations
3-PTZ Cameras Stream, Record, and Zoom
Produce and stream your worship services with this easy-to-use workflow. This workflow includes a SE-500HD switcher, a small but powerful video switcher, that is packed with features such as luma key for overlaying titles and graphics from ProPresenter. PTZ cameras allow one person to control both cameras at the same time using the RMC-180 MARK II controller. You can set up preset shots, so switching to different angles during the production is as easy as pressing a button with your fingertip. The NVS-35 streaming encoder allows you to stream so you can share your message with a wider audience.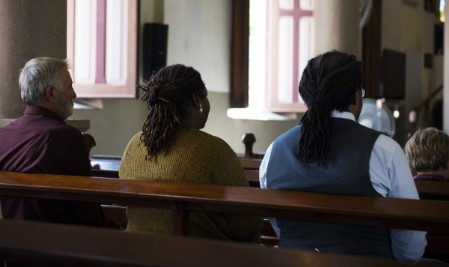 Multi-platform Streaming
Stream to multiple platform simultaneously using the NVS-35 to expend your audience.
Built-in Audio Mixer
Having a video switcher with a built-in audio mixer keeps the workflow simplified since there is no need to add another equipment.
User-Friendly Switcher Panel
Easy to use buttons on a physical switcher panel leaves no room for error while operating.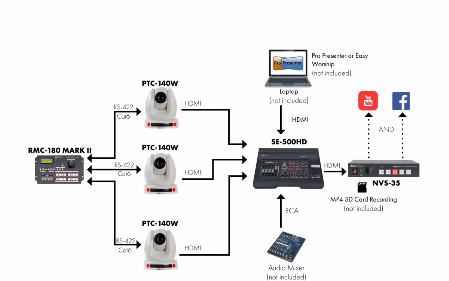 HDMI 1080p switching with advanced features, at a fraction of the cost
Don't let the SE-500HD fool you with its affordability and compact design.
This 1080p switcher comes loaded with features such as luma key for graphic overlays, split screen for podcast interviews, and PiP for Powerpoint presentations.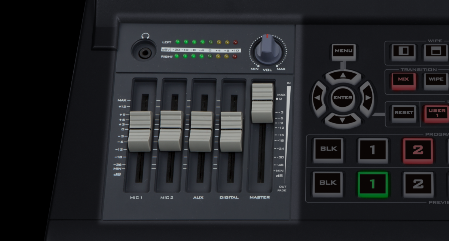 Variety of video and audio input/output
The SE-500HD's built-in audio mixer means that you've got everything you need to control your audio input levels.
For most productions, this means that there's no need to buy a separate external audio mixer.
User-Friendly and Easy to Use
You can save a complex process into a user memory, turning multiple tasks into a one-finger job.
There is no need to install the driver to connect with the laptop. The images and videos can be directly input to the switcher through the HDMI interface of the laptop.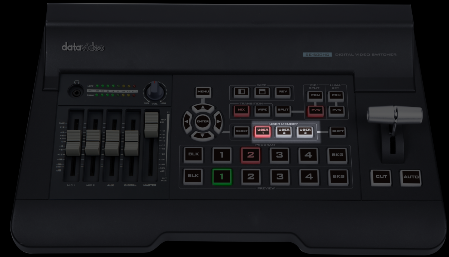 The PTC-140 is a cost-effective SDI/HDMI PTZ camera, which features 1/2.8 inch CMOS sensor, 1920x1080px Full HD resolution 20x optical zoom, 10x digital zoom gives you sharp images no matter where you mount the camera. Advanced 2D/3D noise reduction allows you to create high quality images even in low light conditions.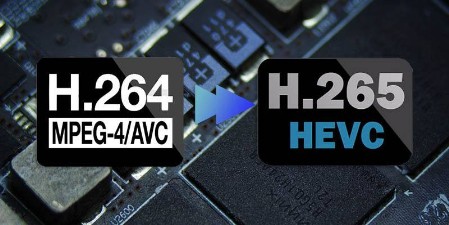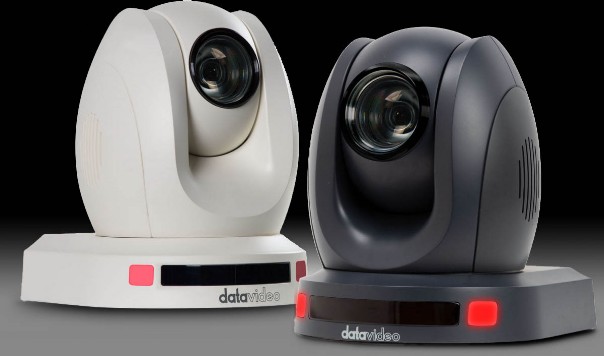 HD PTZ Camera with 20X Optical Zoom
The Camera supports compression of resolution up to 1920x1080 with frame up to 60fps and 2 channel 1920x1080p with 30fps compression. AAC, MP3 and PCM audio compression also supported. Support RTSP, RTMPS protocols, easy to stream directly to your desired CDN streaming platform.
Control real-time pan, tilt, and zoom camera movements with the RMC-180 Controller. With its ergonomic joystick and tactile button layout, the RMC-180 makes it easy to set up and control up to four Datavideo PTC-140 cameras for any live video production.