Church Web Broadcast
Video
We have now added a resources - guides on How To, information and video guides here's the link
Resources
This is a guide to web broadcasting whether you are new to it or want to move to the next stage. We will look at the various options available, equipment set up and getting the best from each item of equipment. I'll keep the tech talk to a minimum!
Web Broadcasting Platforms:
These are the most popular free sites.
1) Church Online Platform - This is a great site and it's free.
www.churchonlineplatform.com
. You will need a third party streaming provider like YouTube, Media Fusion, Stream Monkey or Lightcast Media.
1) Facebook - Most churches starting out will broadcast on Facebook because it's free, easy and can reach a wide audience. The downside is, depending on traffic, the broadcast can hesitate.
2) YouTube -
YouTube offers: 16:9 aspect ratio, high quality video playback, support for most video formats, a large audience for your videos, the ability to embed videos on a blog or website and the ability to limit video access.
Youtube is very popular but it does have a few problems: there are spam comments, a video limit of 100MB and only standard-quality videos can be embedded on blogs or websites.
3) Vimeo -
Vimeo has an easy-to-navigate interface, the ability to create and moderate video groups, high definition video support and up to 1GB video uploads for paid premium accounts and community forums. If uploading a video
it can take over an hour to convert a single video.
1) Dacast - Our prefered video service is Dacast. It is cost effective with very good technical support.
2)
Vimeo - Very good paid service, however, it can be expensive.
3) There are some paid Christian web servers, however most are US based and there is significant delay between upload and broadcast; in terms of cost there are others that offer better prices.
Tips for Web Broadcasting
1) Do a dry run to check everything is working correctly. "Lights Camera Action" was the call in Hollywood but there was a lot of preperation before this stage. Check your exposure levels, as there's nothing worse than poor lighting. Sound levels - can you be heard or is it distorting? Now check it online as a live feed so both the video and sound are OK. Make sure your camera operators know what's expected of them.
2) Consider your online audience as a legitimate part of your congregation and not secondary. Just because they are not physically in the building does not mean that they don't have the same needs, plus allow them to contribute via platforms like Twitter. Think about those who can't make church because of illness, or they are looking after someone or away from home.
3) Web site: do make it easy to find the broadcast or recorded video. Put a link to it on the front page of your web site.
4) Why not send out a text to say the broadcast is starting.
5) For those who come to the web site early give them something to look at, for example, a rolling graphic. Better still why not have a host or pastor - it's a great time to engage your audience and sharing church.
6) Why not use a platform like
Church Online
. Professional platforms allow you to insert a countdown clock, chat room, response tools and more.
7) Quite often online audiences don't feel they are part of the congregation. So why not start with a prayer or greeting just for them.
8) Don't fake a live audience - it's naff! Why not use a cafe style approach and talk directly to camera.
9) If you have multiple cameras and no congregation, you'll need to adjust the shots that you normally have set up, mainly using close up shots. You won't need so many angles and certainly no wide shots.
10) Do add graphics or sermon notes or scripture to the broadcast, as there's nothing worse than just having a talking head. It helps keep people's attention if you can mix it up a little. Use software like ProPresenter to add these. A simple video mixer will provide the switching between laptop/computer and camera.
11) Don't be afraid to ask for an offering and don't leave it to the end. There are lots of ways you can do an online offering.
12) Make the video available as a download 24/7. It's important that you do this along with sermon notes if you have them.
13) Advertise the meeting on your social pages so that not only do the church know that there is going to be a broadcast but people in the local community.
Here's a quote from Phil Cooke Broadcaster and Film Producer
"Regardless of your theological position about what a church service should be, the practical matter is that you're ignoring a potentially significant number of people when you don't take your live stream seriously."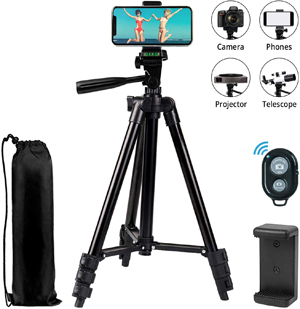 Using a mobile phone or tablet.
Yes you can broadcast using your phone or a tablet however its OK for close personal shots but does not really have the capability to do a service. If you are going to use one remember its limitations and please use a tripod, bean bag or gimbal, as there's nothing worse than a shaky video. Remember to hold them in a landscape view, not portrait and be aware that both the video and sound quality can be very poor. I'm not saying you should not use them but do remember their limitations. Here's a typical ready available tripod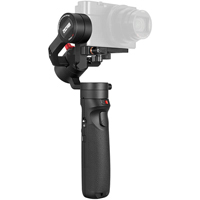 GOPRO or Action Cam
Most have 4k capabilty, steady shot features and high frame rates. You can live stream from your GoPro using the Periscope app (iOs only). The down side are limited battery life, wide angle lens and sound recordings can be a problem (especially with a band). More importantly connecting to a web service could be very tricky especially if you have to use Wifi; not recommended unless you can use an external power supply and have a wired connection to the internet.
I would recommend this gimbal for both phones, GoPros, Action Cam and small cameras.
Cost from us is £259 inc vat
Using a home camcorder
Using a home camcorder can be a very cost effective solution. All you need is an interface to connect you camera to the internet. Again please do use a tripod and if possible connect your sound desk to the camera. Most not all can take a sound input. Normally its a mini jack plug.
Here's a couple of examples of interfaces for you to use.
1) INOGENI up to 4K capture via HDMI and then a USB3 connection to your computer or laptop £395 inc vat
2) Datavideo NVS33 HDMI and SDI inputs. H264 video streaming encoder and MP4 recorder to SD card £725 inc vat
3) VIDIU PRO builds on the VidiU range but goes way beyond Ethernet and WiFi streaming. Its ground breaking ShareLink technology allows you to combine the connections from up to 4 smartphones along with a USB modem and Ethernet for a reliable high quality stream from anywhere. It's a real next-generation mulit-purpose streaming device using all possible IP connections. The Vidiu Pro also records £850 inc vat
Camera Systems For Live and Web Broadcasting
We have range of camera, mixers and interfaces. We offer a free survey and can prepare a quote for your needs and budget. We can also provide on site training.
Call us now on 01452 618619 and lets start a conversation about taking your church forward.