Larger Church Video
Installations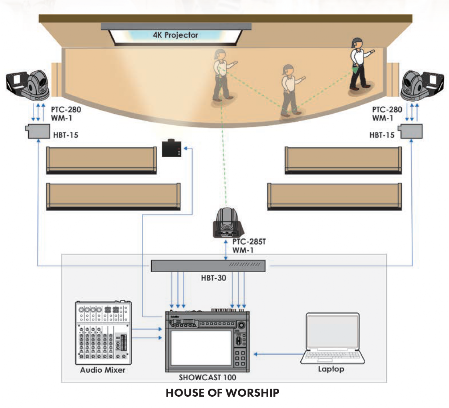 4K60p Long Distance with Tracking
Switch, control the cameras, monitor the camera inputs, mix audio, record and stream all from a single unit.
The best part of this solution is the tracking PTZ camera, PTC-285T. Ai tracking technology seamlessly tracks the pastor as they move from left to right. It eliminates the need for continuous panning and controlling of that camera.
In addition, HDBaseT technology streamlines your workflow by eliminating the need to run muliple cables from the cameras to the switcher.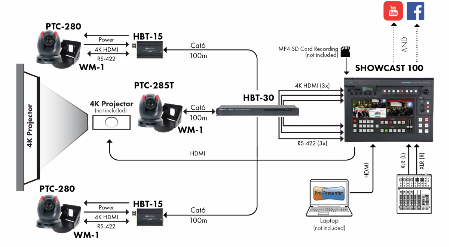 Tracking
Ai Tracking technology on the PTC-285T smartly tracks the main subject on stage and follows their movement smoothly.
HDBaseT
HDBaseT allows easy installation, which leads to quick and cost-effective setup.
All-Inclusive Video Switcher
A product that lets you switch, control, stream, record, and monitor your camera sources. It's easy as 1-2-3.
4K60p 4-Channel All-in-one Production Studio
The touch panel allows easy and intuitive access to a variety of switcher functions. The Showcast 100 has many functions with easy setup.
The unique all-in-one design streamline your video production workflow by reducing the number of external devices that you need to connect. Showcast100 is light and compact. Its mobility makes it ideal for any live production environment.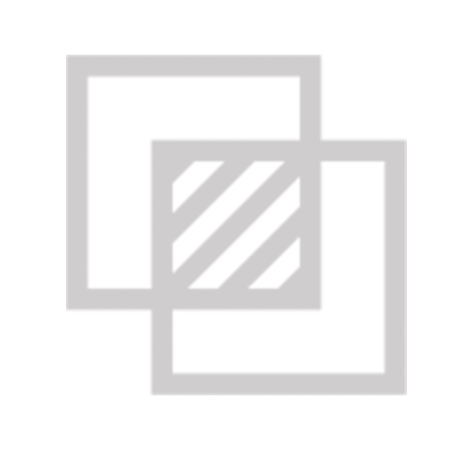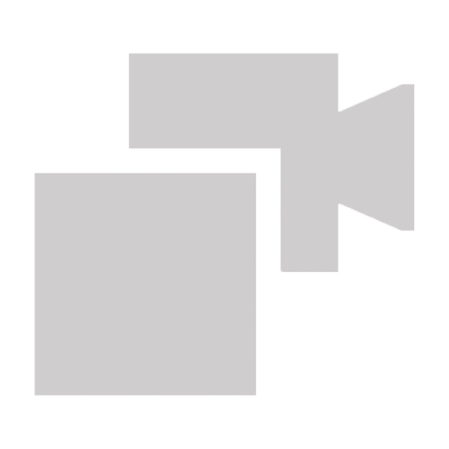 The four HDMI input/output channels are designed for basic video production workflow of meetings, corporate conferences, church events, etc.
The ShowCast 100 offers two ways to overlay subtitles. A lumakeyed subtitle is usually used for logos, animated texts, etc. Another way is to overlay subtitles using the built-in network streaming encoder.
Video Streaming and Recording
The built-in dual live streaming encoder allows you to record and stream simultaneously. With the ShowCast 100's recording capability, you can easily back up the recorded video files for post production edits without much effort.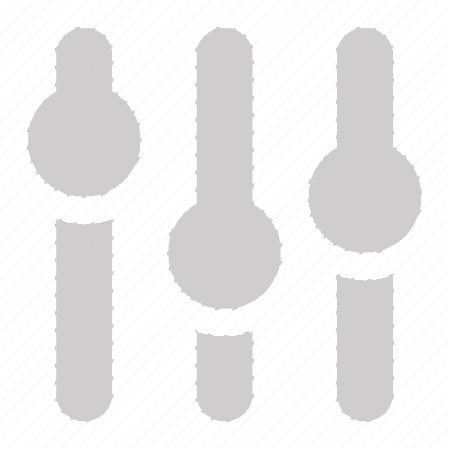 The ShowCast 100's built-in camera control functions allow you to simultaneously control three PTZ cameras. You can directly save the lens position presets, pan and tilt camera lens in real time, zoom in and out of an image, and adjust the white balance, iris and mirror mode.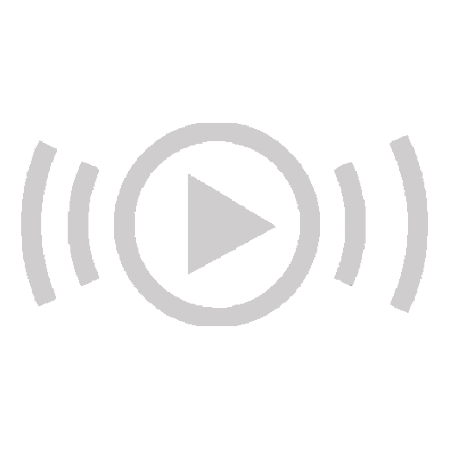 New in 2022 Showcast 100 4K Production Studio
In this video, we will show you how to operate Datavideo SHOWCAST 100 with the PTC-280 4K PTZ camera.
PTC-285T is a tracking PTZ camera. If you are filming multiple people, you can designate a person for AI tracking. Once linked to the camera, only the designated person will be tracked, avoiding interferences such as pieces of furniture or people coming in and out of the shot.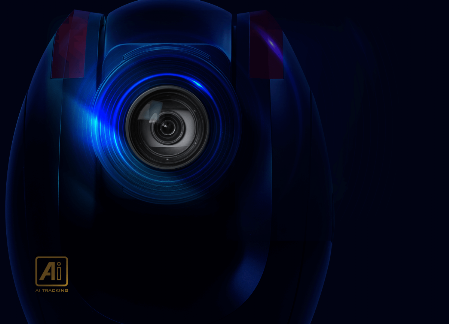 Live productions depend on high performance cameras and camera controllers. PTC-285T supports simultaneous HDMI 2.0 and IP output up to 2160p 50/60 and also 3G-SDI output up to 1080p60/50.
The PTC-280 is a value engineered 4K PTZ camera, featuring 12x optical zoom and 16x digital zoom and resolutions up to 2160p60. The PTC-280 features a dual-streaming encoder supporting H.264/H.265 formats. Low noise CMOS sensor with advanced 2D/3D noise reduction technology ensures that you get sharp, high-quality video even in the low light environments.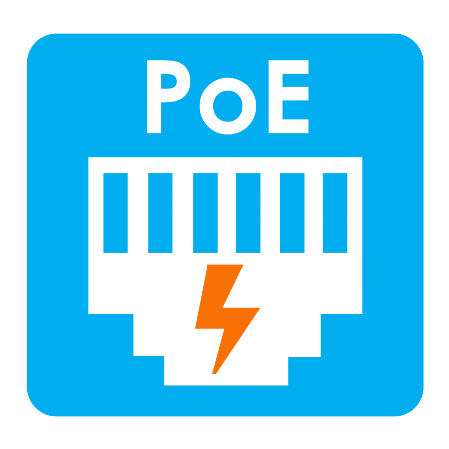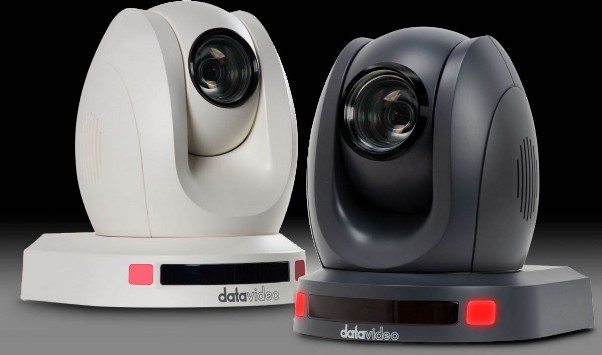 The PTC-280 supports compression of resolution up to 3840x2160 with frame up to 59.94, 60fps and the second channel 1280x720p with 30fps compression. AAC, MP3 and PCM audio compression also supported.
Additionally, the camera also supports PoE for easy installation. No need to find local power outlets or hire an electrician to install outlets wherever you want to mount your camera. Simply run a single CAT 6 cable to power your PTC-280.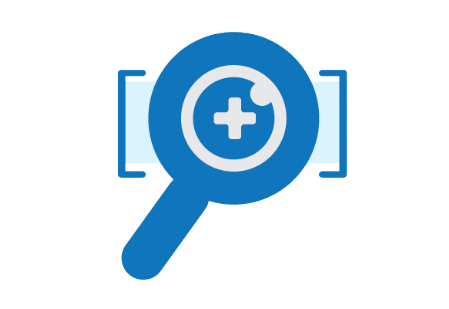 Optical Zoom Field of View Calculator
New at NAB 2022 | SHOWCAST 100 4K ALL-IN-ONE PRODUCTION STUDIO
A brand new 4K Touch Panel Video Switcher. It features 4 channels, PTZ camera control, live streaming, recording, overlay and text graphics, as well as audio mixing - for an All-In-One Solution. Similar to a tablet, the 14-inch touch panel allows easy and intuitive access to switcher functions.
New HDBaseT Workflows and 4K 60 support at 100 meters
Seamlessly add HDBaseT to your production workflows with new solutions from Datavideo. Datavideo now supports HDBaseT workflows with up to 4K resolution at 60 frames per second, up to 100 meters.
The HBT-30 can power the PTZ video cameras via PoE, transmit signals over a single ethernet cable to and from the camera and can be used to remotely control various camera parameters such as iris, presets and etc. Most importantly, it can output HDMI signal to your switcher.
HBT-50 can power the PTZ video cameras via PoE, transmit signals over a single ethernet cable to and from the camera and can be used to remotely control various camera parameters such as iris, presets and etc. Most importantly, it can output SDI signal to your switcher.
The HBT-15 is an HDBaseT Transmitter designed to interface between transmitting and receiving HDBaseT devices. The HBT-15 Transmitter transmits up to 4K 2160P image quality video up to 100m.