HDBaseT Video Production
Installations
Advanced HDBaseT Church Worship Example:
Overview of advanced streaming/recording workflow with 3 cameras and presentation software.
If you want to install PTZ (pan, tilt, zoom) cameras in your sanctuary, look no further than the HDBaseT solution in this workflow. It takes the headache out of having to install electrical outlets on the wall for every camera inside a worship house. Simply run a single Cat-6 cable which carries: power, video, control and tally from a location of a camera to the production desk. No more having to request building permits for electricals or hire an electrician to install outlets. The video switcher in this solution has professional features such as PIP and Luminance key which allows you to connect a ProPresenter laptop for displaying titles, verses, and hymns. It also includes a built in H.264 encoder, so you can stream your services online.
In addition to the diagram, by adding a matrix unit to your system allows you to have different inputs going to different outputs.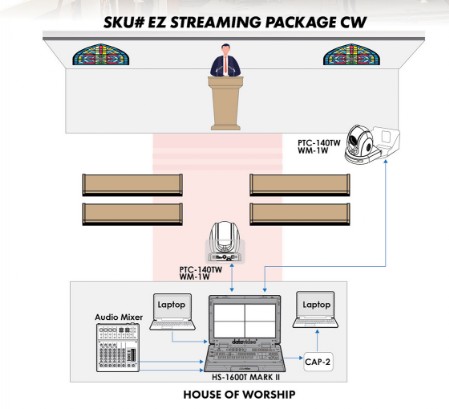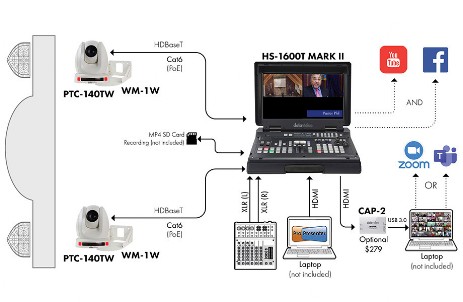 Key Features
HDBaseT allows easy installation of cameras inside your worship house.
Stream your services live, so people can view your services wherever they are.
All the equipment in this workflow are extremely easy to use and set up for the benefit of the weekly volunteers.