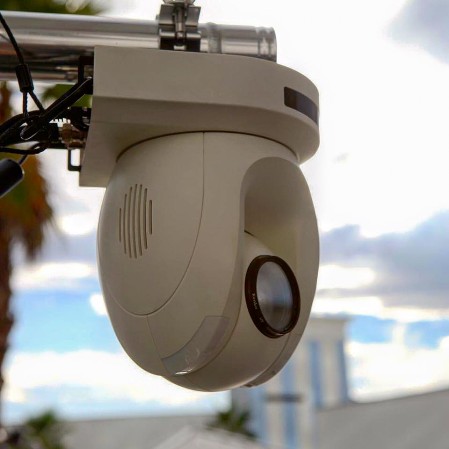 Datavideo PTC 140 PTZ Camera - Our best selling camera available in Black or white. This will stream directly to the web without the need for an interface or mixer or can be used as part of a bigger set yp with a video mixer
The PTC-140 is a low-cost SDI/HDMI PTZ camera, which features 20x optical zoom, 10 digital zoom. The PTC-140 is an IP camera as well, supporting H.264/H.265 video compression and dual stream output. Available as an NDI camera.
HD PTZ Camera

1/2.8 inch CMOS sensor. Resolution up to 1920 x 1080 with frame rate up to 60fps
Low Noise CMOS effectively ensure high SNR of camera video. Advanced 2D/3D noise reduction technology is also used to further reduce the noise, while ensuring image sharpness.

Audio Input Interface

Supports 16000, 32000, 44100, 48000 sampling frequency and AAC, MP3, PCM audio coding

Supports H.264/H.265 video compression; AAC, MP3 and PCM audio compression

Supports compressed resolutions up to 1920x1080 with frame up to 60fps and 2 channel 1920x1080p with 30fps compression

Multiple Network Protocol: supports RTSP, RTMP protocols and easy to link to streaming media server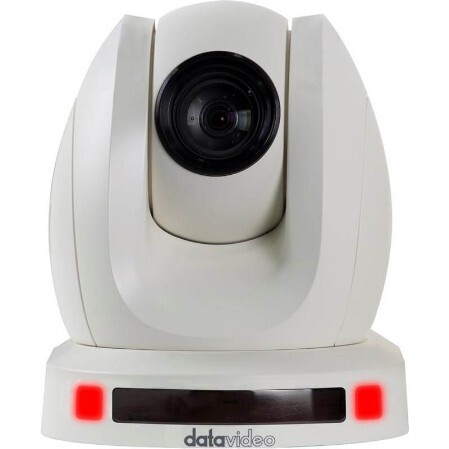 The BC-50 is a cost-effective block camera with 20x optical and 16x digital zoom. Support PoE Technology.
The video output is 3G/HD-SDI, it also supports VISCA/Pelco-D/Pelco-C protocols for control via RS-485. The BC-50 can deliver the compressed video signal H.264/H.265/MJPEG. The BC-50 Block Camera is a small HD camera with sturdy and durable metal case can be used in different types of environments.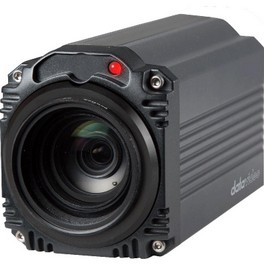 Full HD Block Camera
20x optical zoom with a maximum aperture of F1.8. The camera gain setting of 0.05 LUX is sufficient for video production with a smooth PTZ control
Support PoE Technology for remote power
H.264/H.265/Motion-JPEG compression through RJ-45 connection
Stream to popular platforms such as Youtube & Facebook live.
Regular 3G SDI output for uncompressed video up to 1080P
Controllable by VISCE/Pelco-C/Pelco-D
Tally lights for broadcast level applications
The camera is only 6.4 inch long facilitating setup in all environments.
Cold shoe mount for connecting an external LED light or monitor
The BC-80 Block Camera is a small HD camera with an infra-red remote control.
It can be used for HD high quality shooting within a limited space and supports resolutions up to 1080p60.
The BC-80 provides 30x optical zoom and the image output interfaces are SDI and HDMI.
The BC-80 supports SONY VISCA protocol enabling the camera to be controlled via RS-422 or DVIP interface and the built-in tally light indicates when it is active.
HD Resolution: 1/2.8" High Definition 2.0 M Pixels progressive CMOS sensor
High definition formats supported: 1080/ 59.94p, 1080/ 50p, 1080/ 59.94i, 1080/ 29.97p, 1080/ 25p, 1080/ 50i, 720/ 59.94p, 720/50p
Digital Noise Reduction Function (DNR) to reduce the noise and enable sharper image under low light conditions.
Video Output: SDI + HDMI synchronously.
Tally LED Design (RS-422/ DVIP Operation)
Supports SONY VISCA Protocol
Supports DVIP Control Protocol
RMC 180 Camera Controller
Remote control of up-to four Pan,Tilt & Zoom cameras
Pan,Tilt & Zoom with speed control by large joystick
Control of Pan, Tilt and Zoom as well as Iris, Focus, Gain, and other functions over Ethernet
Multiple preset for Pan, Tilt & Zoom for each individual camera
Full remote control of each camera via serial communication over affordable network cabling
Compatible with Datavideo's switcher tally indicators
Compact design for easy installation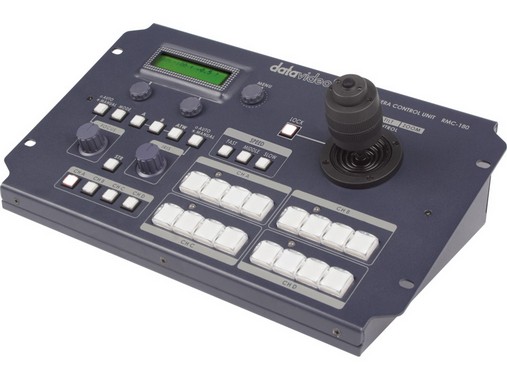 The AG-AC30 is a handheld camcorder with superb low-light characteristics and many professional features and tools, enabling the user to capture beautiful zoom shots and large groups thanks to its wide focal range (zoom 20x and 29.5 mm wide angle).
Its LED video light with 2 light filters included allows reliable shooting even in night-time scenes and dark places as the color conversion filter adapts color temperature whereas the diffusion filter softens the light source. The outstanding low-light characteristics of the camcorder is a result of the built-in, newly-designed 1/3.1-type BSI sensor which achieves a high image quality of 6.03M effective pixels. This enables bright, beautiful shots even in dark places.

Besides the Focus Assist Functions (Expand, Peaking, Area Mode Function) and the sophisticated Professional Assist Functions the camcorder has many more features to offer:

20x Zoom Lens (F1.8 29.5-612mm)
3 manual rings (Focus, Zoom and Iris)
Build-in, powerful LED video light
Simultaneous and relay recording on 2 SD cards
2 XLR audio input and HDMI output
Several Focus Assist functions
Touch Panel: 460K dots 3.0-type LCD
Cam Remote: Focus IRIS & Zoom S/S
5-axis hybrid OIS and Level Shot function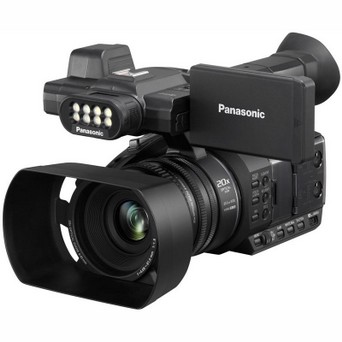 20x Zoom
The powerful 20x super-high-resolution zoom can be utilized for shooting scenes that you cannot get close to. Intelligent Resolution technology allows for shooting at high zoom rates while preserving the image resolution. The 29.5mm wide-angle (35mm equivalent) fits more people and more of the background into the frame which is especially handy when wanting to take a group photo in a small room.
To correct horizontal tilt and hand-shake blur the HYBRID O.I.S. + uses five-axis correction to thoroughly suppress blurring all the way from wide-angle to powerful zoom shots. It also achieves great effects when shooting while walking or in other motion. The included Level Shot function automatically detects and corrects the tilting of captured images.
The 3 manual rings of the camcorder (Focus, Zoom and Iris) add flexibility, provide control and adjust the light to get beautiful pictures regardless of the surrounding brightness.
The 2-Channel XLR Audio Input Terminals of the camcorder enable the use of professional-spec, high-performance microphones for recording high-quality sound. For more convenience, one input is positioned at the front of the camera and the other one at the back.
The double SD card slots enable concurrent recording onto two cards which provides an extra assurance in recording important events and for safeguarding against recording media crashes.
The 1,555K-dot-equivalent color viewfinder can be tilted for added convenience.
The versatile 3-type Slide-Retractable LCD of the camcorder has touch operation and serves as a high-definition, 460K-dot monitor and menu-setting touch panel. When not in use, it slides into the handle front for extra mobility and safety. It also rotates 270 degrees vertically for easy high-angle, low-angle and self-interview shooting.
The AG-UX90 is the "UX-series standard model" for easy, high-quality 4K/FHD recording. It is equipped with a newly designed compact lens featuring a wide 24.5mm angle*1 and 15x optical zoom. Its Optical Image Stabilizer (O.I.S.), intelligent AF function, and Manual Three Rings are ideal for professional camera work.
The AG-UX90 is equipped with a 1.0-type high-sensitivity MOS sensor. It supports UHD 25p and FHD 50p/25p multi-format recording. In addition to 4K (UHD) high resolution, it provides high-quality FHD recording at 50 Mbps. Two SD memory card slots enable relay/simultaneous recording.
The AG-UX90 also has a design and operating ease that will feel familiar to professional photographers, and a variety of interfaces, including HDMI output and XLR input. Offering the same level of agility and mobility as a conventional HD handheld camcorder, the AG-UX90 provides powerful support for high image-quality 4K/HD video production.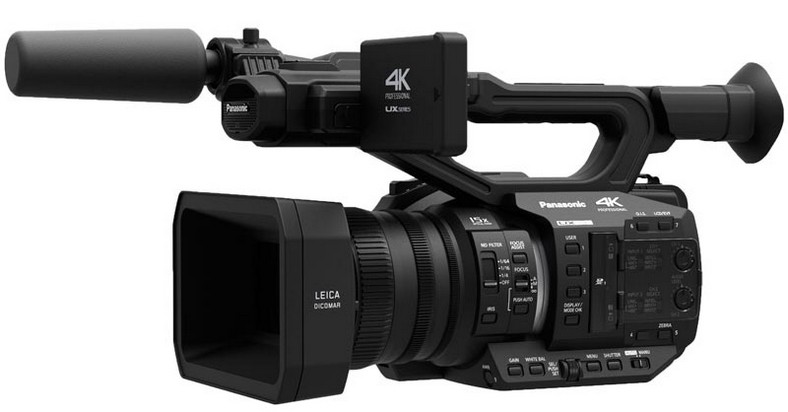 NEWLY DEVELOPED WIDE-ANGLE 24.5MM*1 AND 15X OPTICAL ZOOM LEICA DICOMAR LENS
The 4-Drive Lens System achieves both high image quality/sensitivity and compactness with a wide-angle 24.5mm*1 and 15x optical zoom lens. This speedy zoom provides quick zooming in and out.
High-Resolution Intelligent Zoom
In FHD mode, the i.Zoom function increases the zooming capability to a maximum of 25x while maintaining high resolution. The i.Zoom function seamlessly switches on when the optical zoom limit isreached.
The Digital Zoom function activates without any drop in light intensity. Combining the optical zoom and i.Zoom enables maximum zooming of 250x*2
This lens has passed the stringent quality standards of Leica Camera AG. A multi-coating process minimizes ghosts and flaring, resulting in especially clear images.
*1 35mm film camera equivalent in FHD mode. 35.4mm in UHD mode.
*2 Using 15x Optical Zoom + i.Zoom + Digital Zoom 10x in FHD mode. The higher the magnification, the greater the image quality degradation.
*3 Leica is a registered trademark of Leica Microsystems IR GmbH. DICOMAR is a registered trademark of Leica Camera AG. LEICA DICOMAR products are manufactured using Leica-certified measuring instruments and quality assurance systems based on rigorous quality standards approved by Leica Camera AG.
1.0-TYPE MOS SENSOR FOR HIGH-PRECISION, UHD 25P OR FHD 50P RECORDING
High-Image-Quality, High-Sensitivity, 1.0-Type 4K MOS Sensor
The 1.0-type MOS sensor provides an outstanding depth of field and excellent balance between image quality and sensitivity. High-resolution recording is possible in UHD (3840x2160) 25p mode.
High-Image-Quality FHD Recording
Professional, high-end image recording is possible in FHD (1920x1080) mode with a 50-Mbps bit rate.
Versatile recording modes can be selected according to resolution, frame rate, bit rate, and file format.
ADVANCED OPTICAL IMAGE STABILIZER AND HIGH-SPEED, HIGH-PRECISION INTELLIGENT AF
Advanced Optical Image Stabilizer [UHD/FHD]
The correction area of the Optical Image Stabilizer (O.I.S.) been expanded, which provides powerful correction even in unstable shooting situations, such as low-angle or high-angle shots.
5-Axis Hybrid Image Stabilizer [FHD]
In HD shooting modes, by using hand-shake correction that combines the effects of both optical and electronic image stabilization, hand-shake in various directions, including the rotary direction, is detected and corrected.
The Microdrive Focus Unit achieves superior auto focusing with higher-speed tracking and stability even in 4K images. The highest class*4 of focusing speed, tracking ability, and stability are attained in 4K video cameras.
Auto focus operation can be customised by adjusting the AF Speed, AF Sensitivity and AF Area Width. This function enables the AF to operate exactly as intended by the user in accordance with the subject type or application.
*4 As a camcorder with integrated lens having a 1.0-type sensor. (As of September 2016, according to Panasonic survey.)
FHD VFR (VARIABLE FRAME RATE) RECORDING, DOUBLE SD MEMORY CARD SLOTS
VFR recording can be set in 9 steps from 2 to 50 fps.
Unlimited Relay Recording
By using double SD memory card slots, automatically records continuously from Slot 1 to Slot 2. By changing the SD card, images can be recorded continuously for many hours*5.
*5 The maximum amount of data that can be recorded over multiple SD cards is 96 GB. Recording will not stop even when the data size exceeds 96 GB.
CAMERA IMAGE ADJUSTMENT FUNCTIONS, INCLUDING DETAILS AND GAMMA MODES
Makes skin colours appear soft and beautiful. Especially effective when recording the person up close.
The AG-UX90 is equipped with eight selectable gamma modes, including two Cine-Like Gammas, drawing on technologies developed for the VariCam.
Six files preset with picture quality settings are provided as Scene Files (Standard, Shooting under fluorescent lights, Spark, Still like, CINE-LIKE contrast, and CINE-LIKE dynamic range). You can change any of the settings as desired and store one set as a Custom File in the AG-UX90, and up to eight sets on an SD memory card.
FUNCTIONS AND DESIGNS TO SUPPORT PROFESSIONAL CAMERA WORK
Digital outputs up to UHD 25p and FHD 50p.
Outputs analogue signals for video and audio monitoring
Equipped with two channels of XLR audio input (with switchable 48 V phantom power supply, MIC and LINE), manual audio volume and OSD level meter.
The AG ROP app for iPad*6 is available free of charge from the Apple App Store. It enables wireless remote control of the AG-UX90 with installation of a wireless module (optional AJ-WM50 or AJ-WM30). This enables a variety of control operations, including Zoom, Iris, REC Start/Stop, and picture quality settings.
*6 iOS 7.1, iOS 8.1, and iOS 9 are supported. App Store is a service mark of Apple Inc. Apple, the Apple logo, and iPad are trademarks of Apple Inc., registered in the U.S. and other countries.