Support for Large Productions
Large churches have a lot of IMAG screens in their building. This workflow is centered around the SE-3200 video switcher, which has 6 AUX outputs, allowing you to send individual AUX outputs to up to 6 IMAG screens. The star of the workflow is the TPC-700 touch screen control panel. It makes it easy for the switcher operator to select and switch AUX outputs on the fly during a production.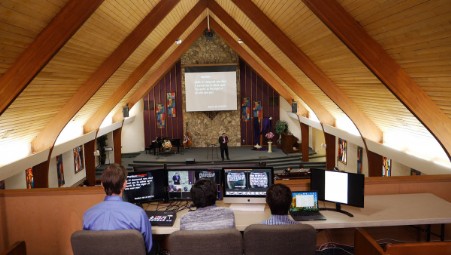 Touch Screen Control
Intuitive and easy-to-use TPC-700 simplifies the workflow. You can efficiently set up PIPs and switch the show with a touch of
your fingertips.
Streaming
Stream to multiple platforms simultaneously with the NVS-40 encoder.