We supply a range of mixers from analogue to digital. We will help you to chose the best solution for you and provide training to get the very best sound.

Here's a selection of the desks we can supply.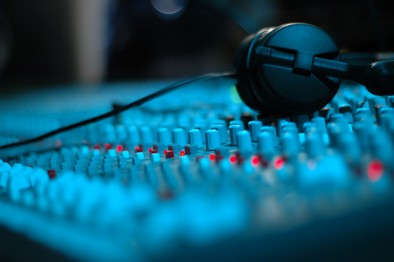 PreSonus® StudioLive® Series III, StudioLive AR, and StudioLive Classic digital mixers provide complete, easy-to-use solutions for live and studio applications. Top-shelf components deliver amazing sound, while full-featured processing is available on virtually every input and bus. The integrated recording interface, networking features, and tightly integrated software provide recording, editing, and computer-control, including simultaneous wireless remote control from laptops, iOS® devices, and Android™ devices.
The small format mixer with large format power.
The

StudioLive 64S

is a 64-channel mixer that brings the power of a large format console to small format digital mixing. Powered by the new quad-core PreSonus FLEX DSP Engine, the StudioLive 64S digital mixer is equipped with 76 mixing channels, 43 mix buses, and 526 simultaneous processors—including 8 stereo reverberation systems, and Fat Channel plug-in models on every input channel and mix bus. With 128 (64X64) channels of USB recording, 128 channels of AVB I/O, flexible routing options, and the studio-grade audio quality that made StudioLive mixers famous, the StudioLive 64S delivers a truly exceptional mixing experience that's in a class of its own.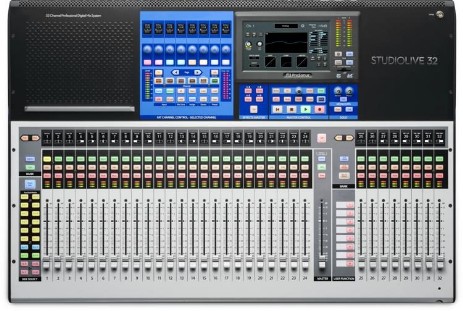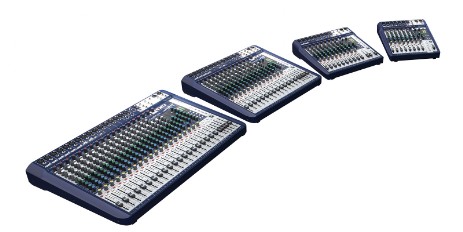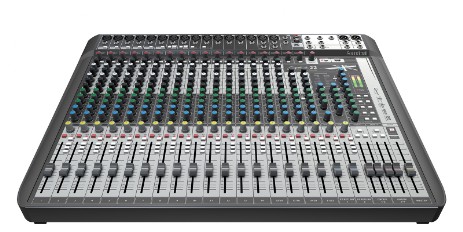 PreSonus designed the StudioLive 64S digital mixer to adapt to your changing needs, whether you're mixing in the studio or on a busy festival stage. Its 32 FlexMixes can be individually configured to function as an aux bus, a subgroup, or a matrix mix. Eight designated effects buses plus stereo and mono main buses make a total of 43 mix buses in addition to an independent solo bus. We also provided 24 DCAs so you can more easily and flexibly control groups of channels. The independent Main Mono bus can be configured with individual channel sends to feed a subwoofer or as the center channel in an LCR system, complete with a Center Divergence control on each channel to more precisely place your pan positions.
All Soundcraft Sig
nature Series consoles incorporate Soundcraft's iconic Ghost mic preamps, directly drawn from the company's top-of-the-line professional consoles, to deliver extraordinary audio quality with high headroom, wide dynamic range and exceptional resolution and clarity with a superb signal to noise ratio. They employ Soundcraft's Sapphyre Assymetric EQ for perfectly equalizing every vocal and instrumental element in a mix with the unmistakable musicality inherent in every Soundcraft console, plus the GB Series audio routing technology famous in thousands of live venues worldwide.
They all include a wide variety of built-in Lexicon studio-grade reverb, chorus, modulation and other effects and dbx limiters on the input channels. The consoles offer XLR and switchable Hi-Z inputs that enable guitars, basses and other instruments to be directly connected.
All the consoles come with a 2-in/2-out USB interface. Accompanying the consoles are free downloads of the Lexicon MPXL native plug-in and Ableton Live 10 Lite.
The

Soundcraft Ui24R

is a complete, rack-mountable, digital mixing and multi-track recording system that delivers flexible I/O, pristine sound quality, intuitive wireless control, and roadworthy reliability—all in a streamlined design. The system can double as a stagebox and can be controlled by up to 10 devices via Ethernet or built-in dual-band Wi-Fi, making it possible to control mixing and multi-track recording wirelessly from anywhere in the venue. With renowned HARMAN signal processing, Studer-designed preamps and much more—from the studio to the stage, Soundcraft Ui24R is the ultimate system for artists, venues and engineers who need to save space and deliver superior sound.
Ui24R brings together industry-leading HARMAN technologies to deliver unprecedented power and mission-critical stability. Renowned Studer preamps deliver rich sound for live performance and multi-track recording, while iconic Lexicon reverbs, choruses, delays, and dbx compression offer polished results for vocals, acoustic guitar and more. dbx AFS2 automatic feedback suppression is available on all monitor outputs, providing an excellent live experience. Plus, DigiTech guitar amp modeling brings a host of effects to any performance, particularly when low stage volume is desired.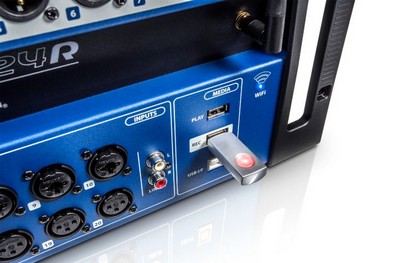 Ui24R is more than just a complete mixing system—it's also a top-notch recording tool. Enjoy peace of mind with dual-path, multi-track recording of all 22 inputs and your stereo mix, directly to a USB storage drive AND a connected computer. The multi-channel USB audio interface also makes it easy to integrate the Ui24R into your recording studio for production work with your favorite DAW.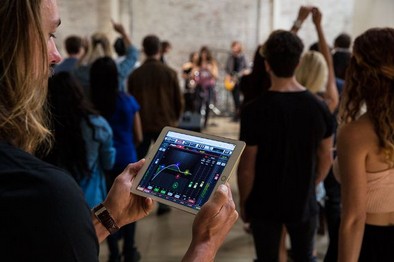 Traditional mixers offer lots of functionality, but can only be controlled from the mix console position. The Ui24R surfaceless mixer combines the power and versatility of a large-format console with a compact design and complete Wi-Fi control. With Ui24R, you can finally have the features you need, plus the freedom to control your mixer from anywhere in the venue.
Software Demo
Software Demo tablet version enables users to create and name Ui24R shows and save them directly to the downloads folder of your local storage. Select Settings> Shows> Offline Import/Export buttons.
Choose a screen size to preview the Ui24R web-based mixer application.Choose a screen size to preview the Ui24R web-based mixer application: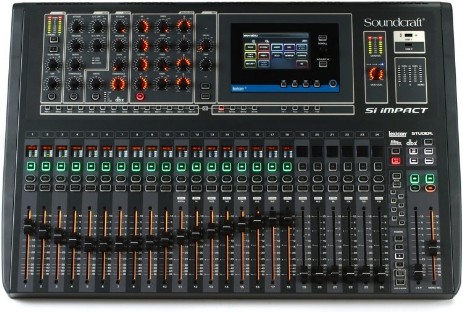 Now combine the 32 mix inputs on the Si Impact console plus all 32 USB inputs for 64 total channels to mix.
Add one Soundcraft Mini Stagebox 32i or 16i to get up to 64 mic channels to mix. Or add a second MADI option card and two Mini Stagebox units for up to 96 microphone preamps, 128 total available inputs and 80 channels to mix.
Add the Dante option card to get 64 Dante channels to mix.
Si Impact. Innovative digital mixing with uncompromised audio quality
Drawing on over 40 years experience in live sound mixing, Si Impact brings the latest digital mix innovations together with the unrivalled sound quality of Soundcraft. Designed to be as simple as an analog mixer, but offer radical workflow enhancements such as the unique FaderGlow™ system, massive DSP power, and a pristine 32-in/32-out USB audio interface, Si Impact delivers digital live sound mixing and recording for those who refuse to compromise on audio quality.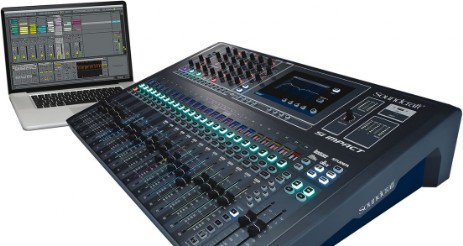 Remote mixing with your iPad®
The mix power of Si Impact is accessible from anywhere in the venue, via the Soundcraft remote iPad® app.
Mix FOH from the audience location, mix monitors from the stage, or allow musicians to set their own monitor mix from multiple iPad® devices.

Key Features:

Up to 80 channels to mix

8 XLR/1/4" Combi-jacks for line inputs and instruments
40 DSP input channels (32 mono inputs and 4 stereo channels/returns)
31 Output busses (All with full DSP processing and GEQ)
4-band Fully Parametric EQ on each channel and bus
26 motorised faders (24 input + LR/Mono)
4 fully customisable Fader Layers
Built-in Stagebox Connectivity
Multi-Colour LCD Channel Displays on each input fader
4 studio-grade Lexicon Effects engines and dedicated FX busses
BSS Graphic Equalisers on every bus
20 sub-group / aux busses
4 mono/stereo matrix busses
32x32 USB audio interface for multi-track recording and playback *
Increase I/O capabilities with option cards and stageboxes:
Use included MADI option card and Soundcraft Mini Stagebox 32i or 16i for more microphone preamps, inputs and channels to mix
Add 2nd MADI option card and two Soundcraft Mini Stagebox 32i or 16i for up to 96 microphone preamps, 136 total inputs and 80 channels to mix.
Add Dante option card for 64 channels of Dante to mix
Additional option cards available: AVIOM A-Net, CobraNet, AES/EBU, BLU Link, more
Additional Soundcraft stageboxes available: Mini Stagebox 32R, Mini Stagebox 16R, Compact Stagebox, and Vi Stagebox